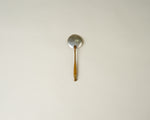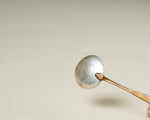 Chef's Spoon Version No. 01 (moon)
Forged Shibuichi (四分一) handle fashioned to silver with 18k gold rivets. 4 week lead time. Numbered as made by Kurtis Major.

From Kurtis: "The inspiration for this spoon comes from my fascination with the phases of the moon and my continuoully changing perception of them. At the time I was interested in how the moon's perspective changed with my orientation and relationship to it through my field of vision. The moon would exist between the opening of trees on Mt. Tamalpais or be accentuated by horizontal clouds. As the moon waxes and wains its slight contours formed new shadows for me opening up new perspectives on the changing curves. When the progression of the moon phase changed so did my ability to observe negative space. I began to become fascinated with the dark shadow of the moon and and what existed in that void. A hidden texture reflected and contrasted by a light filled surface. This spoon nods at that contrast and the subdued elegance of the quest to achieve the perfect circle. The components are 100% forged to shape by using a hammer– only through this exploration of making a perfect circle is expressed in the texture as the metal of the bowl is stretched outward from the center. It creates a tapered shallow bowl that holds just the right amount of liquid for tasting soups, sauces, and the like."
| | |
| --- | --- |
| Weight | 50 g |
| Size | 150mm |
| Materials | Shibuichi copper, .999 silver, 18k gold rivets |